Kenilworth pupils time travel for Domesday Reloaded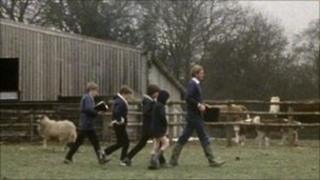 Pupils from Kenilworth School have been diving into the archives to see what life was like 25 years ago.
In 1986, a BBC television crew made a film about the school's participation in BBC Domesday.
The ambitious project to record a snapshot of everyday life saw pupils interviewing residents, taking photographs and writing about many aspects of their lives.
Pupils today have been fascinated to see the changes to Kenilworth.
Domesday Reloaded is the sequel to the original project and, for the first time, the project is being made available to all online.
A record of life
In the mid-1980s a million volunteers took part, including many schools and local groups in Coventry and Warwickshire.
The BBC divided an Ordnance Survey map of the UK into 3km by 4km rectangles, called D-blocks.
These areas were allocated to Women's Institute groups, scout troops, enthusiastic individuals and schools.
The idea was to record life in 1986 for an electronic archive and bring history into the digital age.
BBC Coventry & Warwickshire recently visited Kenilworth School for Domesday Reloaded, along with a television crew from BBC Midlands Today.
'Dog fouling' changes
Once again the focus of the project, the school pupils enthusiastically compared their lives with those of students 25 years ago.
Watching archive video, one said: "[Kenilworth] has still got the Shell garage, it's just it looks so dusty there."
Another was interested in how the news has changed, commenting: "Dog fouling definitely isn't in the news any more."
Computers were rare in the 1980s and today's students were amazed by changes in the technology. One said: "The computers look very different to the ones today, especially the mouse."
Previously inaccessible
Thanks to these changes in technology, the BBC can now publish all of the Domesday 1986 community data online.
Previously all the information was recorded onto laser discs, which were state-of-the-art then but had so few disc reading machines that material was not accessible to the public.
We want the public to explore the photos and articles from 1986 on the Domesday Reloaded website and, where possible, update the record with new information.
The specific Kenilworth information can be seen by following this Kenilworth Domesday link.