Coventry low energy eco homes officially opened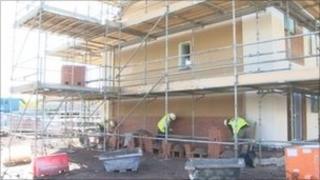 A new "green" housing estate of prefabricated homes has been officially opened in Coventry on Thursday.
The company behind the scheme, Passivhaus, says it is the largest eco home development it has built in the UK so far.
Orbit Heart of England, in conjunction with Orbit Homes, has spent £2.8m to build the 23 homes in Sampson Close, in the Bell Green area of the city.
A scheme spokesman said the homes would have reduced heating bills.
The official opening, at 0900 BST, was conducted by Gregory Barker MP, Minister of State for Energy and Climate Change.
The spokesman said Orbit is working with research agencies including Coventry University to monitor the effectiveness of the homes.
The homes will be available for people through an affordable housing scheme.