Warwickshire youth service consultation ends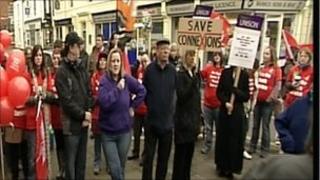 A two-month consultation into under-threat youth services in Warwickshire has ended.
In February, the county council confirmed cuts of £33m and the loss of around 1,800 jobs including hundreds of youth service jobs.
Almost 360 people are employed in the youth sector and unions have said they fear up to 80% could lose their jobs.
Chris Spreadbury, from Unite, said people are worried about the plans and think buildings will be sold off.
"I have been to a few of the meetings and a lots of people are concerned at the lack of service they will have and the buildings will be transferred over to other community groups or, be sold off for capital receipts," he said.
In January, Unite said more than 13,000 people signed a petition urging the council against cuts to the youth service.
The council said the consultation would include a "review of our premises to provide a focus for both partnership work and for dedicated young people services in the communities of greatest need."