Survivors remember Nuneaton Blitz on 70th anniversary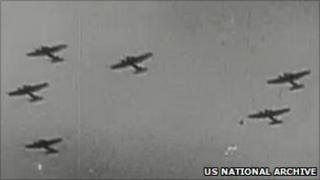 On 17 May 1941, 131 people were killed as the German Luftwaffe dropped bombs over north Warwickshire.
Survivors have been sharing their memories on the 70th anniversary of the Nuneaton Blitz.
Roger Garnham, who was six years old, said: "I specifically remember the night. It was about my bedtime, I know I was dressed for bed.
"It was just one almighty rush to just grab me, and me running along in my slippers and my little coat."
'Still upsetting'
Talking to BBC Coventry & Warwickshire, he said: "I remember feeling the ground jump when the bombs went off, especially when the one went off in Cofton Road.
"It's indescribable, really, what happened, but you literally jumped and were lifted off the floor.
"A child of six in those days was learning things that you shouldn't be learning at six.
"It still upsets me now. We should have never have gone through that.
"I remember one of the next-door neighbours wheeled me down to see the bomb craters in my pushchair.
"All you could see was a big hole in the road with electric and gas mains and water mains that had been ruptured. It was a great big hole, you could have driven a bus in it."
The bombing also injured more than 200 and caused devastating damage.
Another survivor, Al Fennell, was 13 at the time.
He said: "I believe about 14 people in one house got killed in North Street. There was bomb craters all over the place and water spouting out of them all. I'd never seen anything like it before in my life."
You can explore more from the Nuneaton and Coventry Blitz with our Beyond The Blitz: 1940 - 2010 Blitz series, which brings together photographs, video and audio interviews with survivors.
An exhibition to commemorate the anniversary is being held by the Nuneaton Civic Society at Chilvers Coton Heritage Centre.