Unsigned bands compete for Godiva Festival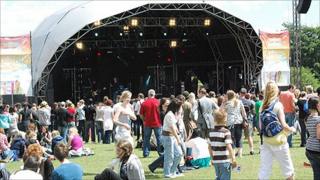 Unsigned bands and artists from Coventry and Warwickshire are being given the chance to play at this year's Godiva Festival.
The annual free festival will take place at the War Memorial Park in Coventry on 1 to 3 July.
The Godiva Unsigned stage will be held on the Friday evening, but one act will also go through to play the main stage the following day.
Bands are invited to submit music, which may lead to a festival slot.
'Home of talent'
Showcase heats are being held at Kasbah, Rosie Malones, The Golden Cross, Blok, Taylor John's House and University of Warwick Student Union.
One winner will be chosen from each venue and will then play on the Godiva Unsigned stage. The bands will then be judged on the Friday of the festival and one will then go on to play the main stage on the Saturday.
Tony Skipper, cabinet member for culture and leisure at Coventry City Council, said: "We've got a reputation for being the home of great musical talent, Hazel O'Connor, The Specials and The Selector and more recently The Enemy to name just a few.
"Maybe the next big act to come from our great home will get the chance to showcase themselves at the 2011 Godiva Festival, and who knows where that may lead them."
Bands have to live within a CV postcode and applications must be received by Friday.
Details can be found on the official Godiva Festival website.