Coventry Water Vole Project asks for volunteers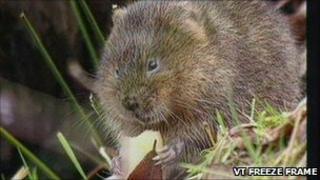 A project to help protect water voles in Coventry and Warwickshire has appealed for volunteers.
Water voles, which were the inspiration behind the character of Ratty in Wind in the Willows, have declined by 90% in the past 20 years.
Volunteers are required to help conserve their habitat in areas such as flowing streams.
Coventry Water Vole Project is hosting a number of open days in June in attempt to find more volunteers.
The drop in vole numbers is mainly due to the increase of non-native American mink, farming changes and the development of riverbanks.
The volunteer days will take place at the following locations between 1000-1500 BST:
Lakeview Park: Wednesday 8 June, Saturday 11 June, Wednesday 22 June, Saturday 25 June, Wednesday 20 July.
Brookside Avenue Public Open Space: Wednesday 15 June, Saturday 18 June.
Longford Park: Wednesday 29 June, Saturday 2 July.