Warwick 4am Project photographers given museum access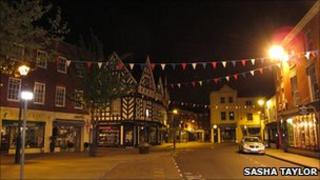 Photographers are meeting in Warwick on Sunday to capture pictures of the town at the "magical" hour of 4am.
It is the first time the 4am Project - a scheme to gather a collection of photos from around the world taken at that time - has come to Warwickshire.
For the occasion Warwickshire County Council will allow the group out-of-hours access to St John's House.
Joint organiser Sasha Taylor said: "They have very kindly agreed to allow us to photograph its fascinating exhibitions and lovely gardens at this magical, rarely-seen hour."
Pre-dawn meeting
Anyone can join the free project, although there is a limit of 30 places for the museum, which occupies the ground floor of the 17th Century St John's House.
Tickets will be allocated online on a first-come, first-served basis, with a stand-by list of people to take the place of anyone unable to make the pre-dawn 0315 BST meet time.
Galvanised through online blogs and Twitter, the Warwick organisers have embraced the project's simplicity, saying: "Participants just need a camera and the desire to get to know some new people."
Anyone in any place can take part in the 4am Project.
Its website has examples of work captured at that time, from city views to rural sunrises, in the form of photographs, video and audio clips.
Since the project started in 2009 it has received over 6,000 images from over 40 countries.