Paralympic dressage hopeful Ruth MacCarthy loaned horse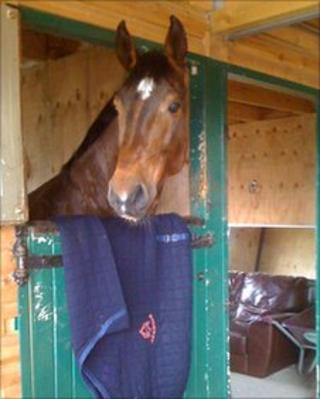 A Warwickshire paralympic dressage hopeful has told of her delight at finding a new horse to train with, after her own became lame.
Ruth MacCarthy, 26, of Wellesbourne, has been unable to train for the 2012 Games since January after her horse Whisper ruptured a ligament.
An owner has now given her his horse on a long-term loan.
Conquestadore, nick-named Carlos, has been flown over from Germany and has completed his first week's training.
'Really panicking'
The 12-year-old is owned by computer programmer David Marsh, from Lewes, in Sussex.
He contacted Miss MacCarthy after she was featured in a BBC Sport article he read online.
Mr Marsh, a dressage rider himself, works in Germany and said he did not have time to ride Conquestadore as much as he wanted to and would like him to be able to compete with Miss Maccarthy instead.
Miss MacCarthy said: "Of course I'm delighted. I was really starting to panic and worry that I would never find a new horse in time, but at the same time I didn't really want to believe that."
Miss MacCarthy, who works as a paralegal, has been riding since she was four years old but broke her back, hip and pelvis when she was 19 when the horse she was riding fell on top of her.
She no longer has the full use of one of her legs but was back in the saddle within 12 months - before she was able to get out of her wheelchair - and hopes to compete in the grade 4 Paralympic dressage.
Her horse ruptured a ligament last July while not being ridden and is now pregnant and due to give birth within the next two weeks.
Miss MacCarthy said Carlos had only been ridden by able-bodied riders before but had competed at the advanced level in dressage.
She said he was adapting well.