Cyclist Ken Rushall's family 'extremely proud' of him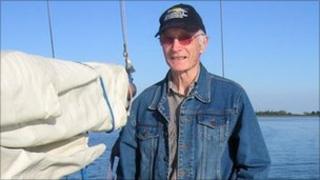 The family of an 82-year-old Warwickshire cyclist, who died when his bike hit a lorry, have said he was "enormously loved".
Kenneth Rushall, from Rugby, died on Tuesday following a collision during a race on the Straight Mile Road near the A45 at Dunchurch, Rugby.
His family have paid tribute to him, saying they are proud of his many sporting achievements.
Mr Rushall was a cyclist who enjoyed road racing and also a sailor.
'Extremely proud'
His son Mark Rushall, 53, said: "Dad was enormously loved and respected, not only by us, but also by his wider family of cyclists and sailors.
"We are devastated to lose Dad in this way, but we are also extremely proud that at 82 he was supremely fit, doing the sport he loved and cycling more competitive times than when he was in his twenties.
"As a close family friend has said to us, Ken was one of life's beautiful eccentrics who carried on doing what he enjoyed right to the end.
"He was never going to end life in an old folks' home watching life go by."
Mr Rushall was taking part in a 10-mile (16km) time trial with the Rugby Racing Cycling Club when the collision happened.
Warwickshire Police said they wanted to hear from anyone who saw a yellow and white Mercedes lorry or the cyclist.