Coventry's first open-air city centre Pentecost event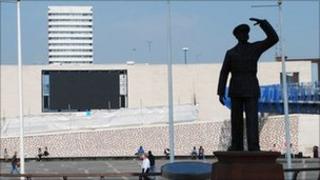 Churches of all denominations and languages in Coventry will be coming together on Saturday, 11 June to celebrate the festival of Pentecost in the city centre.
The Bishop of Coventry will lead a procession from the cathedral to Millennium Square for the open-air event at 1700-1830 GMT.
Organisers hope that with enough support, the diverse multi-language celebration could even be held in a stadium in following years.
Stadium-size dreams
Rev David Mayhew from Holy Trinity Church Coventry said: "After the success of the event last year in Coventry Cathedral, we wanted to make it as accessible as possible this year in the city centre.
"Millennium Square, with the new Big Screen, is a great location to gather all the churches of Coventry together.
"Our longer term vision is that the annual event might gain enough support to take us to the Ricoh Arena stadium in future years."
Deepak Robinson, member of the Asian church based at Christian Life Ministries, added: "This event will reflect both the unity and diversity of the city's churches.
"We're excited to offer the opportunity for people to express their faith in many different languages."
Supporting 800 families
The celebration will also be the official launch of the recently established Coventry Food Bank, of which the bishop is patron.
The food bank has already supported and fed over 800 families from its city centre base.
Event organiser, Mr Robinson, said: "For the Coventry Food Bank, we're inviting people to bring non-perishable and long-dated food items to the celebration.
"These will be laid in the shape of a cross as a symbol of the care and concern the city's churches have for those in need in our city at this difficult time."