BBC Coventry & Warwickshire on Twitter and Facebook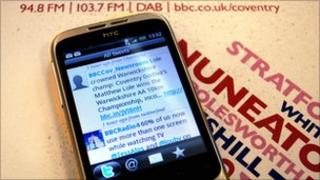 We have launched our station Facebook page to make it easier for you to follow and join in your favourite programmes.
BBC Coventry & Warwickshire has had a presence on Facebook and Twitter for a while, but now for the first time you can see all our social media offerings in one place.
With Twitter you can be the first to receive updates from the news, in addition to following some of your favourite programmes and presenters.
On Facebook you can see photographs and make comments on some of the funny adventures and heartfelt moments that make BBC Coventry & Warwickshire interesting every day.
Twitter
Through Twitter, follow the newsroom on @bbccov_newsroom.
In addition you can follow Twitter accounts for programmes, including:
@annieothenshow
@BBCcovsport
@BBCMarianonair
@BBCShaneonair
@BBCTimOnAir
@cwintroducing
Occasionally we will use a specific hash tag for big events or topics, too, for example the BBC Coventry & Warwickshire HS2 debate in Kenilworth launched #BBCCWHS2.
Facebook
The new BBC Coventry & Warwickshire Facebook page is facebook.com/bbccoventryandwarwickshire.
From here you can follow the main news and events from the station, in addition to finding links to specific programme pages. These include:
Annie Othen Show
BBC Coventry & Warwickshire Introducing
BBC Coventry & Warwickshire Sport
BBC Tim Boswell Show
Shane O'Connor Breakfast Show
The Bob Brolly Show
Vic Minett Afternoon Show