Public thanked over search for Coventry man Hugh Finnie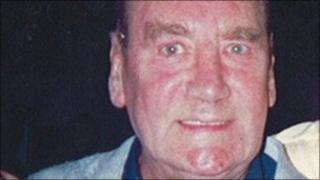 The family of a man whose body was discovered near to a motorway in Warwickshire have thanked everybody who tried to help find him.
Hugh Finnie, 80, was found on Friday on a grass area between the M6 south exit slip road at junction 2 and the slip road for the M69, near Coventry.
Mr Finnie, who had dementia, left his home in Willenhall, Coventry, on 30 May.
Daughter Serena said support had been "amazing".
'All over city'
She said: "We had 2,500 people on the Facebook page and lots of people saying they'd been out looking in different areas.
"We had 2,000 posters printed and put up, people constantly coming to my mum's house to get more posters to put up and they're literally all over the city."
A post-mortem examination revealed no suspicious cause of death.
His daughter added dementia was a contributing factor in him going missing.
"He took a wrong turn somewhere and got confused and couldn't find his way home.
"He's obviously just carried on walking and walking until he was too tired to walk any more."