Secret Millionaire's cash returned by Christian charity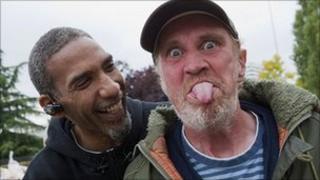 A charity worker in Coventry who was given £15,000 to work with the homeless and those battling addiction as part of a Channel 4 programme has given the money back.
Kervin Julien received the money from Sue Stone on The Secret Millionaire and told us the money had helped with his vision from God to turn his home into a rehabilitation centre.
However he now says he has returned the cheque because there were too many strings attached.
He said: "Sue Stone [The Secret Millionaire] realised that it wasn't feasible to rent somewhere to set up an independent charity, because we are already a registered existing charity.
"So she asked us to come up with something else we could use the money for.
"So we came up with a mobile food unit so we can serve hot food to the homeless, but she turned that one down because she's not into sustaining homelessness.
"For me, there are just too many strings tied to this money and I feel it's holding us back."
Shocked and upset
Sue Stone responded saying she was shocked and upset because she still believed the project was going ahead.
She said: "I got a call last week from Kervin just to ask if he could cash the cheque because he needed it in the church because of doing other things.
"I said no I thought we were going to do this project, this is what we agreed and the words that said were 'I don't want it getting lost in the church pot'."
'Constant gibe at the church'
Mr Julien concluded the row: "Her constant gibe at the church and its pot, and her not wanting it to go into a pot, has riled me.
"We are a church but Sue Stone doesn't want her money used for a charity attached to a church."
The former drug addict works at the Salvation Army headquarters in Coventry and runs a charity called Anesis. The charity is funded by Northpoint Church.