BBC uncovers secret paintings from the motor world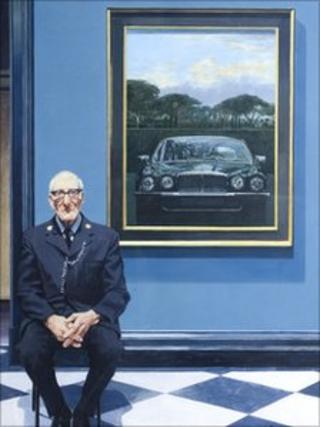 Coventry is to be in a television documentary about the hidden oil paintings that reveal the importance of the motor industry.
The programme, to be broadcast on 26 June, shows how the development of the motor car was captured by artists.
Coventry is key to the story, with visits to The Herbert and an expert from Coventry Transport Museum.
The documentary is part of the BBC's Your Paintings, which is uncovering around 200,000 'hidden' pictures.
Launched on 23 June, the Your Paintings website displays around 200,000 pictures, owned by public bodies, including many that are rarely or never seen by the public themselves.
Two of these are paintings currently in the storeroom at The Herbert.
The Enchanted Road by Frank Salisbury and Armstrong Siddeley 'Sapphire' Cars by Terrence Cuneo join other motor-related paintings from the Jaguar Daimler Heritage Trust.
See the television programme about these works on Sunday, 26 June at 1800 on BBC ONE.
Explore all the uncovered works and more fascinating stories on the BBC Your Paintings.