Organiser of Atherstone Ball Game to stand down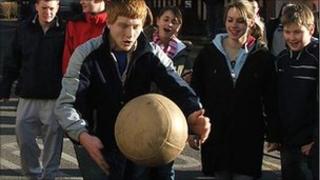 Shrove Tuesday has been an important date in many Atherstonian's diary for more than 800 years.
The Atherstone Ball Game is one of the country's oldest traditions, but for the first time in its history, the game may not be happening next year.
Harold Taft, who has organised it for the past 15 years, is stepping down, but as yet, there is no replacement.
He said: "There has been a ball turned in Long Street, Atherstone, since the reign of King John."
Two world wars
The game, which has been played through two world wars, involves hundreds of men and boys battling it out for the ownership of a heavy leather ball.
The winner is the person who manages to keep hold of the ball until the end of the game, which lasts for two hours.
Mr Taft added: "The Cheshire family, on my mother's side, won it through the Second World War, collected for charity, and filled the balls with cigarettes and tobacco and sent them out to Monty and the troops in the desert.
"I just hope that someone comes forward and the ball game doesn't stop. This town can ill-afford to lose our ball game."
The shops in the town centre put boards up in their windows to protect the glass from any damage.
'Big commitment'
Local butcher Chris Green said: "It would be very sad to see an old tradition die... it brings an awful lot of interest to the town, when small market towns are struggling to be noticed, and this is a little feature that sets us apart from the others.
"It can get quite riotous and only for the strong and brave at the end. It's a hugely popular event and the town really fills up on the day."
The game is not popular with all of the residents of Atherstone, as it can get quite boisterous and competitive, but the historical importance is recognised throughout the town.
Lee Riley, who won the game in 2007, said: "I'm going to have a word with the younger generation to see if there's anything we can do about it because the last thing we want is it stopped.
However, he added: "I think it's a really really big commitment to take it on."
The game is started by a chosen dignitary throwing the ball from a window and in 1951, British Pathe captured the action on film.
The footage shows footballer Tommy Lawton with the ball at the start of the game and the chaos that followed.
Crowds rush to grab the ball while ambulances and fire engines battle to make their way through to injured participants.