Bulkington shooting: Man held as four released on bail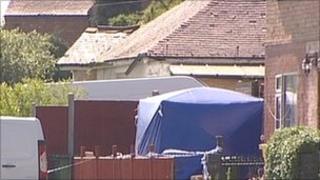 Police investigating the murder of a man in a Warwickshire village are continuing to question a man after releasing three others on police bail.
Three women and two men were arrested on Monday after the shooting of a man on Sunday afternoon.
Four suspects have been bailed and officers have been given extra time to carry on questioning a 38-year-old man on suspicion of murder, police said.
The victim was found at a house in Rugby Road, Bulkington, near Bedworth.
He has not yet been identified, police said.
A cause of death is not known although detectives said he suffered serious chest injuries in the shooting.
Reward offered
Warwickshire Police said initially said that four people were arrested over the death but later confirmed five suspects had been detained.
In a statement, the force said: "The man was arrested on Monday afternoon in Coventry along with three females and a male.
"With the exception of the 38-year old male, they have now all been released on police bail pending further enquiries.
"They had been arrested on suspicion of conspiracy to commit murder.
"Officers from the Major Investigation Unit in Rugby applied to magistrates for a warrant of further detention to continue questioning the 38-year old male.
"This has been granted."
A £5,000 reward for information has been offered leading to the arrest and conviction of those responsible.