Decision due on Warwick district dogs off leads ban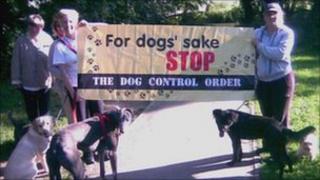 Warwickshire dog owners will find out later whether their pets will have to remain on leads in a number of popular dog-walking areas.
Protests and a petition have been organised against proposed Dog Control Orders for six green spaces.
These include Newbold Comyn and Jephson Gardens in Leamington Spa and parks in Warwick, including Warwick Racecourse.
Portfolio holder for environment at Warwick District Council Michael Coker said only a small area was affected.
He explained: "We've got something like 550 hectares, I think that's over 1,000 acres, and less than a quarter of that is affected."
Kate Pittel has been campaigning against the changes. She said: "It will lead to all sorts of problems.
"It's the dogs that are kept away from other dogs and not socialised and not exercised properly that are the ones we see causing the problems."
Warwick District Council is due to debate the proposals at Leamington Town Hall, starting at 1800 GMT.