Coventry and Warwickshire public sector worker strikes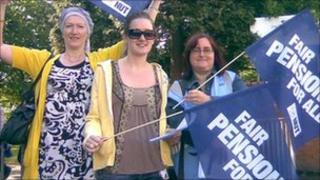 About 200 people protested opposite the council offices in Coventry on a day of national strikes against public sector cuts and changes to pension schemes.
More than 80 schools closed across Coventry and Warwickshire and teachers met up in Warwick's Market Square.
The Association of Teachers and Lecturers (ATL) and the National Union of Teachers (NUT) said the government's plans meant working longer for less.
David Cameron said reform was needed to stop the pension system "going broke".
BBC reporter Hannah Tobin was at one of the protests opposite the council offices in Coventry.
She said the mood was peaceful and good natured, and many drivers had beeped their horns in support as they passed.
The protest was led by Jane Nellist, teacher and joint secretary of the Coventry Association of the NUT.
Public sector staff at job centres, tax offices, courts and driving test centres also voted to strike over public sector cuts and pay.
Teachers staged protests at Rugby, Nuneaton, Leamington Spa and Stratford-upon-Avon railway stations and then joined a mass public sector rally and march in Birmingham.