Leamington band Sixtyfours are in the spotlight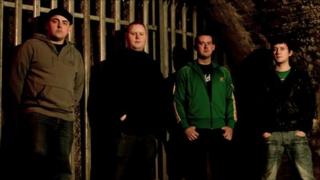 Sixtyfours from Leamington Spa are the featured BBC Coventry & Warwickshire Band of the Month for July.
They are due to record their first EP in the summer, but they are have also bagged themselves a show that could be their greatest gig to date.
On 10 July, they will be supporting cool New Yorkers Fun Lovin' Criminals at Kasbah in Coventry.
They describe their music as "party tracks" with "down-tempo deeper songs" to add variety.
Variety of influences
The band have all played in various forms over the years, and vocalist Alex Curtis was even a drum and bass MC at clubs across the Midlands.
Talking about the Sixtyfour's history, Alex said: "Myself, Jason and Ollie started talking about writing some music together around mid-2009. They had been involved in various bands and music projects with other people for years, but we decided we all fancied doing something different.
"We wanted to write some new, original music and spent a few months working on different ideas, before finally getting in a practice room together early 2010. At that stage we were still not sure what direction we wanted to head in sound wise, but we quickly realised we needed a bassist. We invited David to come and have a jam in March 2010, and he fitted right in."
Their range of experiences is reflected in their sound, which varies from dance, reggae, hip-hop, rock and metal.
They have already supported the likes of Missing Andy and Ghostpoet and there is no doubting that the band are l ooking forward to their Fun Lovin' Criminals gig.
Alex added: "We are just going to go out and give the best possible performance we can. It's obviously a very big opportunity for us to be supporting a well-established and successful band.
'Good support slots'
"We have recently finished writing some new material, so it's going to be really nice to play that on a big stage. We always try to have fun when we play live, and we hope the audience has fun too. We try to put in an energetic and fun performance every time, and this will be no different. To be honest, we can't wait!"
The rest of 2011 sees the band releasing new material and possibly a headline show in the captial.
"We want to play London again for sure. We are lining up a possible headline show down there, we have had one offer for a very well established venue, a place with a lot of history, but nothing is confirmed yet. Obviously we want to keep playing locally as well, there is nothing better than playing close to home. Hopefully we can pick up some more good support slots too."