Coventry's Godiva Festival held for 14th time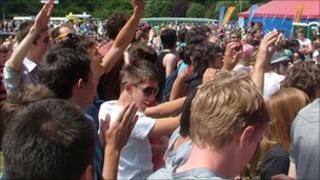 The 14th Godiva music and entertainment festival has started in Coventry.
The city council thought about 80,000 were expected at the three-day event in War Memorial Park.
The Godiva Awakes choir, which has been chosen to perform as part of the London 2012 Cultural Olympiad, appeared at 1230 BST on Saturday.
This year's Godiva Carnival procession started at University Square at 1300 BST. More than 1,500 people will be involved.