Lindsay Hawker death: Family 'wants justice' in Japan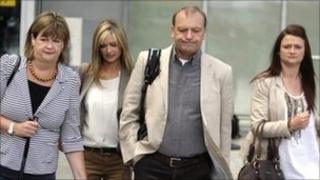 The parents of murdered teacher Lindsay Hawker found dead in a bath of sand in Japan say they want justice, ahead of the trial of her alleged killer.
Ms Hawker, 22, from Brandon near Coventry, was found dead at Tatsuya Ichihashi's flat in March 2007.
The 32-year-old is accused of raping and murdering the university graduate. His trial starts in Tokyo on Monday.
Speaking at Heathrow Airport prior to leaving the UK, her family said all they wanted was "justice for Lindsay".
'Strong family'
Ms Hawker was last seen alive after giving Mr Ichihashi an English lesson in a coffee shop.
He was later arrested at a ferry port in Osaka, southern Japan, in November 2009 after he went on the run.
Under the Japanese court system her family will be allowed to question the defendant, at the court's discretion.
Ms Hawker's father Bill read out a statement at the airport.
He said: "We're travelling to Tokyo today for the trial of Ichihashi and we're hoping to get justice for our daughter.
"That has always been our only aim.
"I can't say anything else other than that today.
"But, we're a strong family and we're going to see this through to the end. All we want is justice for Lindsay."
A spokesman for the family said a verdict in the trial was due to be given on 21 July.