Sacked heart specialist Dr Raj Mattu in court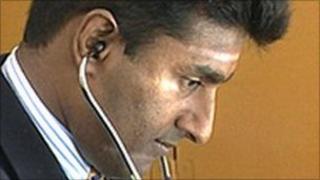 A heart specialist who was dismissed after a nine-year dispute with a trust has been in court to try to get a ruling that his sacking was illegal.
Dr Raj Mattu blew the whistle over two patients dying in overcrowded bays at the former Walsgrave Hospital in Coventry in 2001.
He was suspended in 2002 over bullying allegations.
Dr Mattu's barrister, John Hendy, told the High Court in London that his human rights had been breached.
Seriously ill
He was sacked for refusing to accept a re-skilling plan that did not include research, talking to the press and appearing at functions while on long-term sick leave where he knew trust managers were present, the court heard.
In October 2010 Dr Mattu was seriously ill in hospital, the court was told.
It heard his GP and a medical specialist wrote to the trust asking it to delay a disciplinary hearing in November 2010 because of his illness and the stress was making his illness worse.
The hospital's chief executive, Andrew Hardy, disregarded those letters and sacked Dr Mattu without him giving evidence in his defence, the court heard.
Impartial panel
Mr Hendy said this was unfair and if the trust knew that Dr Mattu was unfit to attend, then the hearing in November should not have gone ahead.
Dr Mattu's human rights had been breached because he was not afforded an independent and impartial panel and effectively his career as a doctor had ended, the court heard.
The trust has said that the hearing had been delayed many times and that Dr Mattu failed to report to occupational health as his contract required.
Dr Mattu is due to undergo cross examination on Wednesday.
He was reinstated in July 2007 but was told he could not work until he had retrained, although he never completed this.
In 2009 the General Medical Council (GMC) cleared him of bullying allegations.