Volunteers step in to save Atherstone Ball Game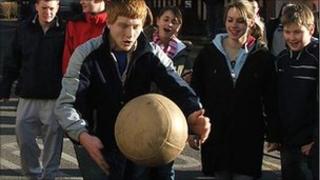 Three volunteers have come forward to organise the Atherstone Ball Game, which has been played on Shrove Tuesday in Warwickshire since the 12th Century.
The two-hour game involves hundreds of men and boys competing for ownership of a heavy, leather ball in the street.
Harold Taft has organised it for the past 15 years but retired earlier this year without a replacement.
Atherstone Town Council held a meeting on Wednesday night to resolve the issue and three volunteers came forward.
Nigel and David Evans, of the Warwickshire-based M.G Evans & Sons funeral directors, have been asked to form a committee to run the ball game, along with a third man called Rob Bernard, the council said.
It said the tradition was very important to the town.
The winner is the person who manages to keep hold of the ball until the end of the game and their prize is to take it home with them.