Coventry man Mark Deeley cleared over dog stabbing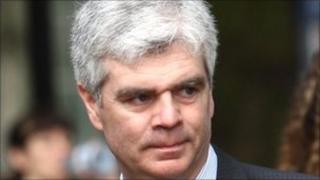 A man who stabbed a neighbour's dog to death as it attacked his pet Labrador has been cleared of acting unlawfully.
Mark Deeley, 50, of Coventry, told the city's magistrates' court he had been left with no alternative other than to stab the German Shepherd, Max.
District judge David Miller accepted Mr Deeley believed his actions in November 2010 were reasonable.
The lettings agency owner, of Cryfield Grange Road, Gibbet Hill, was acquitted of a count of criminal damage.
Ran into garden
The businessman had been accused of acting disproportionately when he stabbed the guard dog as it locked its jaws around his Labrador's throat.
Mr Deeley told the court on Wednesday he had been left with no alternative after it ran into his garden and attacked his 12-year-old pet, Bertie.
He said he feared the German Shepherd was about to kill his Labrador in the incident on 26 November.
Mr Miller, who stressed the verdict in no way condoned the use of any weapon against a dog, said forensic evidence in the case proved the attack on Bertie was ongoing when Max was stabbed.
'Fear was genuine'
Clearing Mr Deeley of acting without lawful excuse, the district judge said the Labrador was subjected to a serious attack which could have proved fatal.
He said: "Mr Deeley, a dog lover, felt an immediate need to protect Bertie and he was also in fear of his own safety.
"I have no reason to doubt that that fear was genuine."
Speaking after the verdict, Mr Deeley expressed surprise that the case had been brought to trial.
He told reporters: "It has been an awful event from the very second that Max came through the hedge and attacked Bertie.
"I was surprised that it (the prosecution) got this far, particularly as everything happened on my property."
Mr Deeley told the court the intention "was to disengage Max from Bertie and to immobilise the dog in such a way that it wouldn't come for me".
He said: "I used as much force as I saw was reasonable in order to prevent the attack."