Coventry pupil's anti-smoking film receives award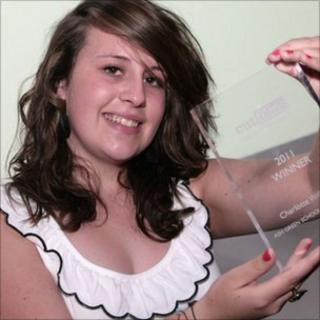 A Coventry pupil has won a national award for a video she produced about the dangers of smoking.
The short film, called Cut it Out, depicts a paper family and one member eventually becomes covered in an ash-like substance and is taken away.
Charlotte Wilkinson, 14, of Ash Green School in Coventry, won the judge's choice award in the competition.
It was produced by The Deborah Hutton Campaign charity and invited young people to make films about smoking.
'Really proud'
Charlotte, who picked up her award from actress Rachael Stirling at a ceremony in London, said: "It's very exciting to have won the national awards and to take part in making the film.
"I'm really proud that my idea caught the judges' attention and hopefully lots of people will listen to its message that smoking will cut you out of your life and your family will miss you."
The aim of the films is to get young people to spread anti-smoking messages through social media and the internet and to their friends.