'No mercy' for Lindsay Hawker killer, father asks judge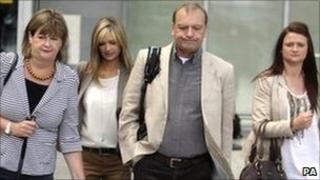 A man whose daughter was raped and strangled in Japan, has asked the judge to give her killer the maximum sentence available according to Japanese law.
Miss Hawker, 22, from Brandon near Coventry, was found dead in a bath filled with sand at Tatsuya Ichihashi's flat, east of Tokyo, in March 2007.
The 32-year-old Japanese student has admitted raping and accidentally killing his former English teacher.
Miss Hawker's father Bill appealed to the judge directly during the trial.
'No Mercy'
Mr Hawker was called as a witness and told the prosecutor at Chiba District Court how proud the family was of her going to Japan to teach English.
The defence claims that Ichihashi tried to revive Miss Hawker after accidentally strangling her while trying to prevent her crying out for help.
As a result, Ichihashi should face a lesser charge of inflicting injury, causing death, his defence team told the court.
The prosecution said she was murdered and Mr Hawker asked the judge to apply the maximum punishment for her killer.
He said the court should show "no mercy" to Ichihashi because Ichihashi had shown no mercy for his daughter.
In Japan the maximum punishment for murder is the death penalty, but BBC correspondent Roland Buerk said that was usually only given to serial killers.
Miss Hawker's parents, Bill and Julia, have been attending the trial and heard how Ichihashi evaded police capture for two years on the run and was said to have tried to perform DIY cosmetic surgery to alter his appearance.
He was finally tracked down to a ferry port in Osaka, in southern Japan, when staff at a plastic surgery clinic became suspicious about their client and told police in November 2009.
Ichihashi was eventually identified by his fingerprints.
The trial was adjourned on Friday afternoon Japanese local time and will resume on Monday.
A verdict is expected before the end of the month.