Coventry Airport plans outlined to firms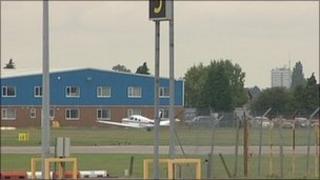 Plans for the area of Coventry Airport which could create about 10,000 jobs are to be outlined to businesses.
Coventry & Warwickshire Chamber of Commerce members were meeting at the airport after owner Sir Peter Rigby announced proposals in April to invest £250m into the site.
Plans have included developing an office park and improving the passenger terminal and cargo facilities.
Sir Peter is due to present proposals at the meeting involving the companies.
Chamber chief executive Louise Bennett described plans as "massively exciting" and said they "could well have a major impact on the regional and local economy".
She said there were proposals for Middlemarch Business Park to be "extended to the south, concentrating more on industrial and distribution businesses, with an office park to the north".
Private jets
The meeting is to be held in the main passenger terminal at the airport on Tuesday evening.
Financial problems forced previous owners West Midlands International Airport to close it in December 2009.
It had operated as a cargo terminal and a base for private jets.
Passenger airline Thomsonfly stopped outbound flights from the airport in November 2008 after plans for a new terminal were rejected following a public inquiry.
The inquiry found an extra terminal would cause too much noise.