Timeline: Lindsay Hawker's murder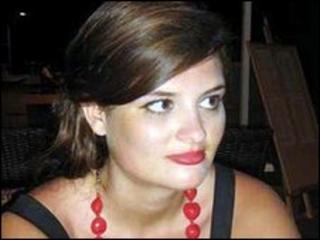 British teacher Lindsay Hawker was killed in Tokyo, Japan, in March 2007.
Her body was found buried in a bath of sand on the balcony of an apartment belonging to Tatsuya Ichihashi.
Ichihashi admitted raping and strangling Miss Hawker, who had travelled to Japan from her home near Coventry, but said he did not intend to kill her.
Here is a timeline of events surrounding the 22-year-old's death.
October 2006
Lindsay Hawker leaves her home in Brandon, near Coventry, and heads for Tokyo to teach English with the Nova language school in Koiwa.
March 2007
The 22-year-old gives an English lesson to Tatsuya Ichihashi, aged 28 at the time, at a coffee shop in Tokyo. At 1000 local time on 25 March, Miss Hawker returns to Ichihashi's apartment and informs the taxi driver to wait for her while she briefly goes inside. The driver leaves after seven minutes.
Miss Hawker is reported missing the next day. Her employer calls her father, Bill Hawker, and police are sent to Ichihashi's apartment where they find the suspect escaping on foot.
They discover the Leeds University graduate's body in a bath full of sand on the balcony of the fourth-floor apartment in Ichikawa, east of the capital.
Mr Hawker and his daughter's boyfriend, Ryan Garside, travel to Tokyo to formally identify her body. Mr Hawker declares he "will not rest" until her killer is caught.
April 2007
CCTV footage showing Miss Hawker and Ichihashi just hours before her death is broadcast on Japanese television.
Hundreds of mourners, including Japanese Ambassador Yoshiji Nogami, gather to pay their last respects at a funeral service for Miss Hawker at Coventry Cathedral.
May 2007
Margaret Beckett, then Foreign Secretary, travels to Japan and appeals to the Japanese media to devote more coverage to the murder.
Ichihashi's father tells Miss Hawker's family via police that he hopes his son will "atone for his crime". Mr Hawker calls the message a "hollow gesture".
June 2007
Warwickshire Police fly to Tokyo to help the family liaise with the Japanese police team.
Miss Hawker's parents, Bill and Julia, make a renewed appeal on Japanese TV for help in finding their daughter's killer.
August 2007
The family launch an e-mail campaign, circulating a letter titled Don't Forget Lindsay Hawker. They appeal for the readers' help and ask them to forward it to as many people as possible.
September 2007
Mr Hawker hands out leaflets featuring Ichihashi's face at London Heathrow Airport to mark the six-month anniversary of her death.
March 2008
To mark the one-year anniversary of her death, Miss Hawker's family fly to Japan to appeal for new leads.
March 2009
Miss Hawker's family return to Tokyo on the second anniversary of her death. They unveil life-size talking cut-outs of Mr Ichihashi to raise the profile of the investigation.
November 2009
It emerges that Ichihashi may have undergone plastic surgery to change his appearance. Police release pictures of how he might look now. The suspect, now 30, is thought to have had cheek implants and lip-thinning. Miss Hawker's family appeal to police to tell them what has happened.
On 10 November Ichihashi is arrested by Japanese police at a ferry terminal in Osaka, the Foreign Office confirms. He is held in police custody in Osaka.
December 2009
Ichihashi is charged with abandoning Miss Hawker's corpse.
Later that month he is charged with rape and murder.
September 2010
Ichihashi apologises to Miss Hawker's family in a letter published in some newspapers.
January 2011
He publishes a book confessing to the killing and describing how he spent two-and-a-half years on the run and how he underwent plastic surgery.
July 2011
Miss Hawker's parents arrive in Japan, ahead of Ichihashi's trial at a court in Chiba.
At his trial, Ichihashi admits raping and straggling Miss Hawker but says he did not intend to kill her.
Giving evidence, Bill Hawker asks for the heaviest sentence available for Ichihashi under Japanese law.
Ichihashi is sentenced to life in prison.