Coventry residents given cards urging tolerance of youths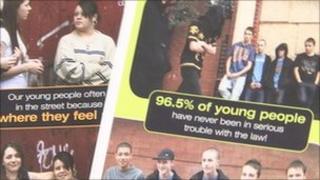 Cards urging people not to be afraid of youths hanging about on streets are being handed out in Coventry.
The pamphlets include colourful pictures of youths looking moody as they lean against a wall.
But the photos are accompanied by slogans which state "96.5% of young people have never been in serious trouble with the law!"
Up to 10,000 of the cards will be handed out by council officials to coincide with the summer holidays.
A spokesman for Labour-controlled Coventry City Council said: "It's a perception campaign.
"Anti-social behaviour does rise in the summer holidays but not by as much as people think.
"For example, 95.6% percent of young people have never been in serious trouble with the police, and not many people know that."
While the cards include a picture of youths glowering, underneath the slogan is a photo of the same youths looking happy.
One of the designs depicts several girls standing in front of a wall defaced with graffiti.
But underneath is the statement: "Our young people often hang out in the street because it's where they feel safe."
Rarely a threat
The picture below the slogan shows the same girls facing the camera and smiling.
Neighbourhood street wardens are handing out the cards in the city centre.
The cards also state: "Our young people learn about life and friendships when they get together and hang out. Playing outdoors has been part of growing up for generations.
"Often our young people play in the street near their homes because it's safe. They're rarely a threat to anyone else. In fact, young people are more likely to be a victim of crime than anyone else."