Athlete Emma Bexson wins silver after spine was crushed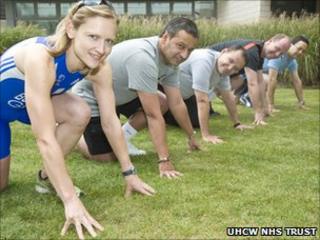 A Warwickshire woman whose crushed spine was repaired just 12 months ago has won a silver medal at the Triathlon European Championships.
The mother of three from Stratford-upon-Avon had ground-breaking cement treatment at Coventry's University Hospital.
Team Great Britain triathlete Emma Bexson feared she would never walk again after a cycling accident.
Ms Bexson said: "I feel like the luckiest person alive."
Talking about the competition in Spain, last month, she added: "After the accident, my only goal was to make it to the European Championships, so winning silver was a huge milestone."
Ms Bexson was only the seventh person in England to undergo the minimally invasive procedure, which involved keyhole surgery to repair the spinal break, using a combination of rods, screws and cement.
Fundraising pledge
The operation is designed to reduce tissue damage and reduce risk of paralysis, in comparison to traditional surgery.
Ms Bexson, aged 36, was walking again within two days of the procedure, in July 2010, and was quick to return to training and her part-time profession as a chiropractor.
She plans to show her gratitude to spinal consultant Mr Hussien El-Maghraby and the surgical team, at the University Hospital, by raising £80,000 to buy equipment for the neurosurgical unit.
She is also training towards the World Championships in Beijing this summer.