Lindsay Hawker death: Family 'hope to move on'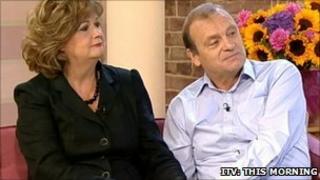 The family of a British teacher found dead in a sand-filled bathtub in Japan say they hope they can now move on after her killer was jailed for life.
Tatsuya Ichihashi, 32, admitted killing Lindsay Hawker, 22, from Brandon, near Coventry, at his home close to Tokyo, but had denied her murder.
He was jailed for life on 21 July. Her family say they are glad he is behind bars.
Bill Hawker, Lindsay's father, said Tokyo was a safer place for it.
Speaking to ITV's This Morning programme, Mr Hawker said: "We have two beautiful girls and we hope they eventually get back to being normal, get married, have grandchildren, whatever.
"We have got to get ourselves out of debt but we will manage that over the years."
Miss Hawker was last seen alive after giving her killer an English lesson in a coffee shop, on 25 March 2007. She had travelled to Japan in October 2006 to teach English.
Ichihashi was seen escaping from his apartment when Miss Hawker's body was found and went on the run, changing his appearance by plastic surgery.
He was arrested at a ferry terminal in the city of Osaka, in western Japan, in November 2009.
Mr Hawker said it had been a four-and-a-half year battle but one where his family had got the result any parent would have wanted.
"There were a lot of times that we almost gave up," he said.
"We ran out of money, another trip was coming up, but we are glad that we ploughed on."
The family said they did not blame the Japanese authorities for their plight.
"Lindsay just met evil," Julia Hawker said.