Motorised gliders approved for Stratford-upon-Avon club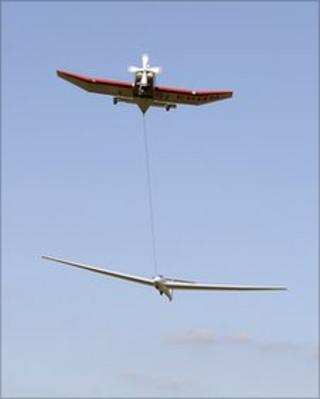 Planning permission has been granted for the use of motorised gliders at a club in Warwickshire, in spite of objections from residents.
Stratford on Avon Gliding Club applied to vary its operating terms to allow motorised gliders to use its Snitterfield Airfield base in Bearley.
Stratford District Council received 198 objections, 114 of which related to the potential increase in noise.
The application was unanimously approved by councillors on Wednesday.
Officers had previously recommended it for approval.
One of the other main objections was about the potential alarm the gliders might cause to livestock.
The British Gliding Association said it was an environmentally-friendly activity and modern motors were quiet.
It said motors allowed gliders to stay in the air for longer and were useful for helping to train pilots in emergency landings.
It said the club needed to be able to accommodate motorised gliders at Snitterfield Airfield to stay in business in order to keep its current members and attract new ones.