Snitterfield residents protest over motorised gliders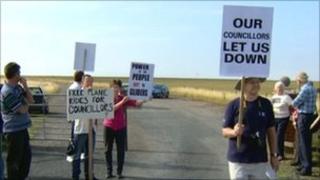 Residents have been staging a silent protest after a Warwickshire gliding club was granted permission to fly motorised gliders.
Villagers from Snitterfield and Beerley gathered by Stratford-upon-Avon gliding club in protest at the district council's decision on Wednesday.
They said the noise will be a constant intrusion on their lives. The council had received 198 objections.
The gilding club said it was inappropriate to comment.
Another objection to the plans was about the potential alarm the gliders might cause to livestock.
The British Gliding Association has said it was an environmentally-friendly activity and modern motors were quiet.
Motors allowed gliders to stay in the air for longer and were useful for helping to train pilots in emergency landings, a spokesman for the association said.