Sacked heart specialist Dr Raj Mattu loses appeal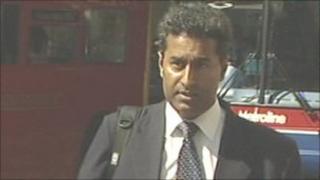 A sacked heart specialist who went public about patient overcrowding in a Coventry hospital has lost an appeal to overturn his dismissal.
Dr Raj Mattu exposed the cases of two patients who died in crowded bays at the former Walsgrave Hospital in 2001.
He was suspended for alleged bullying but was later cleared. He then refused to accept NHS retraining.
Dr Mattu said his human rights had been breached but the High Court said it was lawful for his employer to sack him.
The court ruled that while ill health had contributed to a delay in Dr Mattu returning to work or attending his disciplinary hearings, the trust's dismissal process had followed the correct procedure.
'Perfectly reasonable'
The heart specialist said that as part of his reskilling he should be allowed to undertake six months of research-related work in the United States.
University Hospitals of Coventry and Warwickshire NHS Trust refused the request and Dr Mattu was dismissed in November 2010 for failing to sign the trust's retraining plan to get him back to work.
In July Dr Mattu appealed against the decision to sack him claiming that it had ended his medical career and that his human rights had been breached because the case had been decided by the trust's chief executive rather than an independent, impartial panel.
Presiding judge Timothy Straker QC said on Monday the disciplinary process had not required independent medical involvement.
He said the trust was entitled to undertake disciplinary procedures and the way it had executed that process met the requirements of the European Convention on Human Rights.
The judge added: "It seems to me perfectly reasonable for the trust to be interested in getting Dr Mattu back to work.
"The trust was entitled to make reasonable requirements of Dr Mattu and the requirement of Dr Mattu that he be reskilled as a consultant cardiologist for which post he had been engaged without a period for academic reskilling appears perfectly reasonable and rational."