Global Gathering: Police concerned about drugs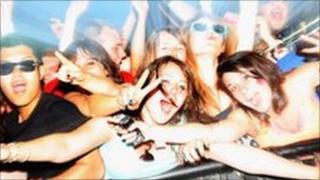 Police have said they continue to be concerned about the number of people found in possession of drugs at a Warwickshire music festival.
A total of 252 people were questioned in relation to drugs offences at this year's Global Gathering at Long Marston Airfield, near Stratford-upon-Avon.
Over the weekend Warwickshire Police said 157 people received cautions or Fixed Penalty Notices for drug possession offences.
About 40,000 attended the event.
Headline acts included Tinie Tempah and Chase and Status.
Four of those who received cautions or Fixed Penalty Notices for drug possession offences worked in notifiable professions such as medicine or teaching, which means the police have a duty to inform their employers.
Ch Insp Chris Lewis, who was responsible for the policing operation at the festival, said a further 85 people were issued with warnings for the possession of cannabis.
He said 10 people were arrested for drugs trafficking offences and either released on police bail pending further inquiries or taken into custody.
Police said several people were still being treated in hospital for the effects of drugs as their friends left the festival to go home.
The force believes the main drugs in circulation were cocaine, cannabis, MDMA, ecstasy and ketamine.
'Dangerous' mix
Kirsten Lord, from drug addiction charity Addaction, was at Global Gathering to talk to people who choose to take drugs about harm minimisation and how to keep safe.
She said: "Addaction was glad to have had the opportunity to attend this year's event.
"People may not realise they have a problem with drugs or alcohol until it's causing real problems.
"A lot of them didn't realise the risks they were taking. For example, if you use cocaine and drink alcohol at the same time, you'll create a mix in your body called cocaethylene - which is very, very dangerous."