Safety plea ahead of Bulldog Bash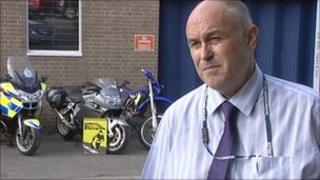 A campaign has been launched in Warwickshire following an increase in the number of road deaths involving motorcyclists in the county.
There have been five motorcycle deaths so far this year compared to two during 2010, police said.
The force said it was timing the campaign to coincide with the annual Bulldog Bash which starts in the county on Friday.
The four-day event is held every August at Long Marston airfield.
The festival features rock and metal acts and a quarter-mile drag racing strip.
Phil Moore, road safety officer with Warwickshire Police, said: "We've put some posters out to bring to the bikers' attention that there are other road users and it's just trying to get each group to each be aware of each other and work together to look after each other on the routes.
"Hopefully, if we do make people a little bit more alert to that problem, we'll stop other collisions."