Prayers for family of pond death boy Nathan Rumbold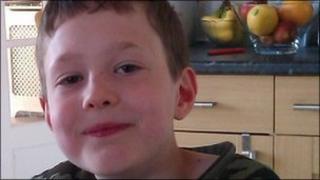 Prayers have been said at a church in Warwickshire for the family of a boy who died after being found in a pond.
Nathan Rumbold, 11, was discovered in the garden pond in Polesworth, north Warwickshire, on Friday evening and died at hospital.
Police have not been treating the death as suspicious and Warwickshire's coroner has been informed.
A post-mortem examination showed his injuries were consistent with having tripped and fallen into the water.
Rev Philip Wells, at Polesworth Abbey, said family and friends were remembered at services on Saturday and Sunday.
He added that people would think of them throughout the week as well.
"I don't think there's anybody in Polesworth who doesn't reach out and want to help and support the family and just to feel for them," he said.
"There could hardly be anything more tragic or more sorrowful really."