Bulldog Bash returns for its 25th year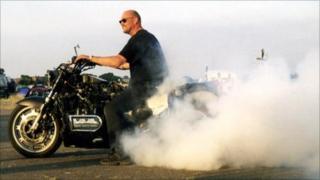 Long Marston, near Stratford-upon-Avon, is once again opening its doors to biking enthusiasts and music fans as the Bulldog Bash returns.
The festival, which runs until Sunday, 14 August, is now celebrating its 25th year.
It is run by the Hells Angels motorcycle club and has grown from something small into one of the largest of its kind in Europe.
This year's event will be headlined by Status Quo and The Damned.
One of the event's organisers, who calls himself Echo, said: "This is special for us as it's 25th anniversary.
"A lot of people thought we might not make it after the problems over the last couple of years, but the local people have really stuck with us."
The Bulldog Bash began as a small gathering for the Angels at the Shakespeare County Raceway which is part of Long Marston Airfield.
In the early days, it was simply a gathering for bike fans who would use the drag strip to compete against each other.
'Our party'
Over the years the festival has grown and has seen the likes of Fun Lovin' Criminals and Motorhead playing the main stage.
Talking about the early days of the festival, Echo added: "It was our party for ourselves... We'd invite friends and it was basically bands and beer and a bit of drag racing thrown in.
"In those days, the club couldn't afford to get top-notch drag racers."
"We keep in touch with our audience and never make massive changes, but are tweaking the show all the time.
"I am glad we got to 25 after the attempts to close it down. We're very grateful for local people and the council."
Following the murder of Hells Angel member Gerry Tobin on the M40 in 2007, the police presence at the festival increased.
There were also objections to it continuing amid claims that there were links to organised crime.
But there is now a smaller police presence, an aspect welcomed by the people of south Warwickshire according to Stratford District councillor Mike Brain.
"We would expect more revellers to come to the site this time. They have never caused us problems before, but we are always conscious that somebody could want to come and spoil the party, and the police are aware of that, as are the organisers and the community."