Slabs laid in £7m scheme involving Coventry's Broadgate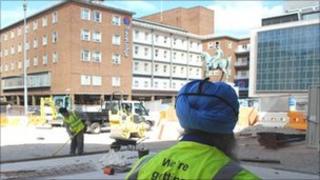 The first granite slabs have been laid as part of a £7m project which will transform a square in Coventry ahead of the 2012 Olympics.
The plans are for Broadgate to have more trees, a traffic-free zone and subways to be altered.
Rising bollards will be provided at each end of Broadgate to ensure the safety of pedestrians while allowing access for emergency vehicles.
The project has been expected to be completed by spring next year.
The new square was being part funded by the European Regional Development Fund, the city council said.
Councillor Linda Bigham, cabinet member for city development, said: "An event space in the centre of the city has been lacking and is just what we need.
"We will now be able to offer the events and entertainment that the people of Coventry have been wanting."