Broadgate to become traffic free zone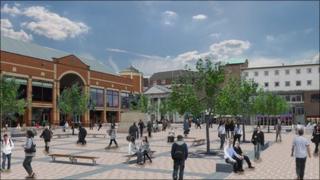 An area of Coventry is to be made a traffic free zone.
As part of a £7m project to re-develop the city centre ahead of the 2012 Olympics, Broadgate will become a pedestrianised area.
This means that the taxi ranks in Broadgate and Pepper Lane will be moved to Greyfriars Lane.
The ranks in Trinity Street and Hales Street are also being reviewed to make sure they are positioned and sized correctly.
'Fantastic new space'
Councillor Lindsley Harvard, cabinet member for city services, said: "Earlier this year we asked residents if they wanted our new Broadgate to be a traffic free zone and the feedback we received was an overwhelming 'yes' and so this is a direct response.
"We also know that people were worried about having to make a huge detour to get a taxi or bus and so we have worked hard to make sure that buses are close by in Ironmonger Square and taxis will still rank as closely as possible to Broadgate."
The one-way system on Greyfriars Lane will be reversed, so that traffic heads towards High Street, and the pavements will also be improved to allow easy wheelchair access.
It is part of the improvements that are part-funded by the European Regional Development Fund.
Councillor Linda Bigham, cabinet member for city development, said: "We are all really proud of our city and these improvements to Broadgate will give us a fantastic new space for holding events, not just for 2012 but for many years to come."