Fundraising Ride and Stride for Warwickshire churches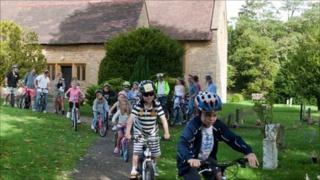 Warwickshire cyclists and walkers are preparing for a church-crawl this September to "buck the trend" with increased fundraising.
For the annual Ride and Stride, participants are sponsored to visit a series of churches, taking in the Warwickshire countryside along the way.
The principal source of income for the Warwickshire & Coventry Historic Churches Trust, the event on 10 September will also encourage new visitors to churches that may usually be closed when not in use.
Over 185 churches in the county will be open and some will also be supplying refreshments and can give advice on routes, from the family-friendly to the outright ambitious.
Hard times
In 2010 Warwickshire participants raised £15,000 through the day's activity, an increase on previous years that organisers hope will continue.
James Kerr, from the organising committee, said: "We usually nudge a few more participants each year and we've been bucking the trend by raising more funds even in these hard times.
"I'd encourage anyone to join in and have a great day out in the Warwickshire countryside visiting fantastic buildings."
The trust is non-denominational and supports the architectural and cultural heritage of churches through repair and maintenance grants.
Mr Kerr explained: "Churches are part of our heritage, whether you worship in them or not, so everyone can benefit from feeling they've taken part in the Ride and Stride to help preserve these remarkable buildings."