Deadly spider found in Coventry warehouse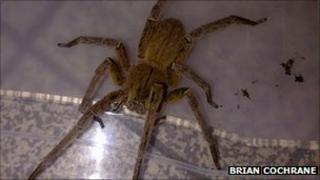 One of the world's deadliest spiders has been found in a Coventry warehouse.
The Brazilian Wandering spider, normally found in south and central South America, was caught and taken to a reptile store in the city.
It has now been found a new home at Stratford Butterfly Farm in one of its "Nasties Tanks".
Coventry University student Brian Cochrane, who runs KBN Reptiles, said it was "quite distinctive" and the find was "very exciting".
He said: "The Wandering Spider is quite distinctive and I had a fair idea what it was when it arrived in our store. It was very exciting.
"It's formidable looking, which is a good thing because humans should be very wary about approaching them. They're aggressive and won't hesitate to bite, and their venom is highly toxic."
In May, a family from Merseyside had to leave their home after finding what is thought to have been a Brazilian Wandering spider in a bunch of bananas.
Mr Cochrane's business partner, Katie Hodgkins, added: "It's not unheard of for spiders like this to find their way into the country in a bunch of bananas.
"It's a dangerous arachnid and not the kind we keep in our store, so we took it to the Butterfly Farm in Stratford where people can enjoy seeing it in safety."