9/11: Coventry man remembers father's death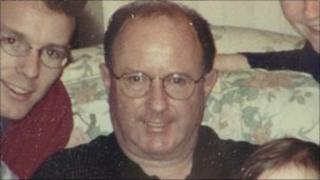 When Rob Halligan heard a plane had flown into one of the Twin Towers on 11 September 2001 he was at work in Coventry.
He made his way to a nearby department store so he could watch the events unfold on the televisions on display.
He saw the second plane hit the South Tower with a sense of "incredulity".
His father Bob worked on the 99th floor of the South Tower but he said at that stage he was not worried - he believed his father was sitting at home.
Bob Halligan, 59, worked for an insurance firm and had been living in America since the 1980s.
Broken leg
But two weeks before the attack on the World Trade Center he had broken his leg and had been off work recovering.
It was only when Rob telephoned his stepmother in America that he became concerned.
"I tried phoning his home and talked to his wife. She was in hysterics - he had gone into work," he said.
Still he was sure his father would have had time to get out.
"He was there in 1993 when the towers were bombed and he said it was so scary if anything happened again he'd get out straight away."
But later he spoke to his father's colleagues who had got out who said his father had been on his way to a meeting and may have been reassured by a PA announcement that the North Tower had been hit but the South Tower was safe.
Although Rob grew up in Coventry he had maintained links with his father and saw him for family holidays.
He said after the attacks the family had faced an anxious wait for answers.
His father's body was never found but after two weeks Rob helped organised a memorial service in America.
But he said at that stage the news had not sunk in.
"I was trying to be supportive to my step mom and sorting out the memorial service so I kind of felt numb."
He said it was only a few days after the attack when he had read a prayer at an event his church had organised that his father's death hit him.
Music and charity
"I read the Litany of Reconciliation and the autopilot stopped and it suddenly felt very real."
He felt unable to continue working as an HR manager so he quit his job and turned his love of music into a career as a musician.
He also dedicated his time to fundraising for two charities in his home city - Global Care, which helps vulnerable children all over the world, and the Jesus Centre, which cares for the homeless.
He said the last time he had seen his father they had spoken of their shared love of music.
"He said 'I'm really proud of your music and I'm really proud of what you're doing."
He said he had tried not to feel anger towards the terrorists as he felt more upset about all of the people who had died in subsequent wars waged against terrorism.
"It makes me angry that we plough so much money into this war on terror when famine and preventable diseases kill more people," he said.
As the 10th anniversary of 9/11 approaches Mr Halligan says he is looking to the future.
"With the 10th anniversary I do feel I have to draw something of a line under it.
"I don't want to be defined by 9/11."