Bob Ainsworth calls for clampdown on roadside car sales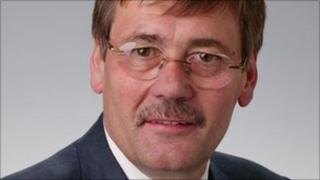 Labour MP Bob Ainsworth has spoken out over his concerns regarding cars being sold from the roadside.
Mr Ainsworth, MP for Coventry North East, said he wanted more to be done about sales on Sewall Highway, which keep "springing up".
Local residents will also discuss the sales at the next Wyken Ward Forum.
The matter is currently being investigated by Coventry City Council who are going out to consultation on adopting new policies.
Mr Ainsworth said he felt roadside car sales were damaging forecourt car traders.
"This is a proper and extensive business and it's been going on for some long time," he said.
"How on earth can you run a car sales business if you are renting car park space, paying your taxes, and competing with these boys?"
Councillor Faye Abbot, who is also chair of the Wyken Ward Forum, said she hoped local residents would attend the forum on Thursday and get involved with the consultation.
"The council is going out to consultation on adopting a new licensing policy and a formal street trading policy, which will effectively prohibit roadside car sales unless you're a private individual selling form your own premises," she said.
"Part of the problem until now are the people who are are trading as businesses and are getting through the loop holes. We are trying to stop that and give local residents their street back."