Lord Coe visits Coventry's 2012 Olympic football venue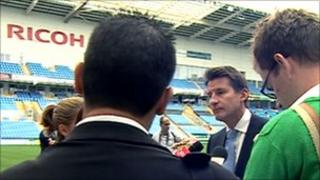 London 2012 chairman Lord Coe has visited Coventry to see preparations for the Olympic Games.
The Ricoh Stadium has been selected as the first venue in England to host Olympic football.
Lord Coe said: "This is a world-class stadium and I don't think I can pay it a greater tribute than that.
"It's part of a sporting community, part of a concentration of community based sport and that's great to offer as a venue."
'Incredibly proud'
One of those showing visitors around the Ricoh was Martin Reeves, chief executive of Coventry City Council.
He said: "We're incredibly proud to be chosen as a host city and a host venue and now the work really begins to get the city as well as the stadium ready for the world coming.
"We're going to see Broadgate redeveloped for generations to come and new routes from the railway station.
"This is about confidence for everybody who lives and works in the city and to potential investors.
"When the football goes and the Olympics rolls out of town we want to have many years of legacy for Coventry."
The Ricoh Arena will host a total 12 men's and women's Olympic football matches under its new name for the occasion, the City of Coventry Stadium.