Coventry taxi numbers capped in 'zero tolerance' deal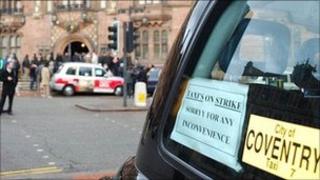 The number of taxis in Coventry is being capped following a dispute between drivers and the council.
Drivers in Coventry went on strike at the start of the year complaining there was too much competition for fares and it was difficult to make a living.
Responding to an independent survey, councillors have agreed not to issue any more licences for at least a year but have demanded service improvement.
Both sides are still calling for more changes in how taxis operate.
Imran Zaman, chair of the Coventry Taxi Drivers Association, said the cap should have been enforced earlier.
'Zero tolerance approach'
The number of licences is being capped at the current level of 851.
Lindsley Harvard, Coventry city councillor for city services, said the cap is on condition of service improvement in a new "zero tolerance approach".
He said: "We worry about the service to the people of Coventry. In various parts of Coventry taxis park on double yellow lines and park either side of ranks illegally.
"We could, if we want in certain areas, put cameras up and issue parking tickets remotely by post."
The cap will be reviewed in 12 months.