Coventry designed Jensen Interceptor causing excitement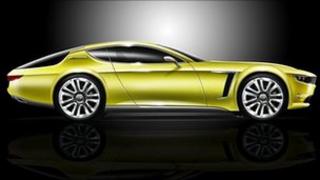 A new Jensen Interceptor car to be made in Coventry has been welcomed as "a very exciting design" by car enthusiasts.
The design builds on the original, built between 1966 and 1976.
David Newby, chairman of the Jenson Owners Club, said: "I've seen the new pictures and it's a very exciting design and I really do look forward to seeing more details of the car.
"I'm pleased with how it looks. They've carried forward the huge wrap around rear screen with great success."
'Wonderful to drive'
Mr Newby owns two of the original models. He said: "The Interceptor just has presence. It's a wonderful car to drive, very light and airy, and even way back in 1966 Jensen were well ahead of their time.
"It was just a wonderful car to drive."
Quentin Wilson, motoring journalist and former presenter of Top Gear, said: "This is great news. There is a market for these cars. There is so much money up at the top that sales of Ferraris, Bentleys, Lamborghinis and Aston Martins are doing well."
He added: "We do make the best cars in this country. It's so encouraging to see firms like this putting their flag in the ground and saying we're going to build cars where cars started, in the West Midlands."
Handcrafted body
Coventry firm CPP Global Holdings will engineer, develop and build the all new Jensen Interceptor at its planned new Browns Lane headquarters from 2014.
The new Jensen Interceptor will have an all-new aluminium chassis and handcrafted aluminium body.
The public unveiling of the Interceptor is planned for late 2012, with deliveries to customers beginning in 2014.
Annual production numbers and pricing are yet to be confirmed.