E.On jobs further 'blow' to Coventry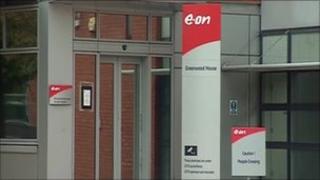 Job losses at power company E.On's head office in Coventry is yet another blow to the city, an academic has said.
E.On is to cut up to 500 jobs at its head office in Coventry and at its centre near Nottingham.
It has not said how many will go from Coventry as it is looking for voluntary redundancies.
Professor Colin Crouch, an economist at the University of Warwick, said it would have a negative impact on the city,
"Coventry is a city which has never managed to share in the revival of cities, like its neighbour, Birmingham," he said.
"Anything that further undermines it is going to make it weaker."
'Very difficult'
The company said it was looking to reduce numbers to reflect the changed nature of the business following the sale of its distribution arm, Central Networks, in March.
Andrew Johnson, of the union Unison, said people were "devastated".
"It is very difficult in the economy at the moment, such as when trying to obtain employment.
"So it is a blow and it is a blow to the Midlands economy as well."
Councillor George Duggan, of Coventry City Council, said people found it difficult to comprehend why energy companies were making people redundant at the same time as putting their prices up.
'Key significance'
The chief executive of E.On UK, Dr Paul Golby, said: "We had to undertake a deep and rigorous review of how much money we spend in order to ensure we keep costs as low as possible for our customers."
Chief executive of the Coventry and Warwickshire Chamber of Commerce, Louise Bennett, said it was "very disappointing news for the city and more so for each and every individual involved".
She said: "The company will remain of key significance in the regional economy and will still be a large employer but this is a blow."
The chief executive added the chamber would do everything it could to support E.On and those workers being made redundant, adding: "Some may use this as an opportunity to look to start their own business."