Coventry RSPCA offers reward for stolen dog Chippy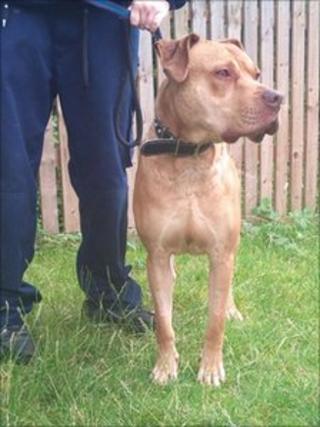 A reward has been offered as part of a renewed appeal to find a dog with a life-threatening blood disorder that was stolen from the RSPCA in Coventry.
Chippy, a mastiff-cross, was taken from the site on Coundon Wedge Drive by a man in August.
Kennel supervisor Jennie Hamlet said: "Because we're so keen to get him back, staff, volunteers and the trustees have all clubbed together.
"We've managed to get together a £500 cash reward," she said.
Chippy, who is about 18 months old, is neutered and micro-chipped and was taken by a man posing as a potential adopter.
Sightings made
The man, in his early 20s, has been described as having brown hair, blue eyes and a pock-marked face, about 5ft 7in (1.7m) tall with tattoos on his hands and neck.
Ms Hamlet added: "We've had a few sightings both on the day he was stolen and also since then.
"We're hoping that he gets seen and that people will come forward, especially now we've got the reward.
"It's a little bit of an incentive for people to come forward and make sure that we get Chippy back home and safe."