Coventry's 'worst' schools bid for rebuilding funds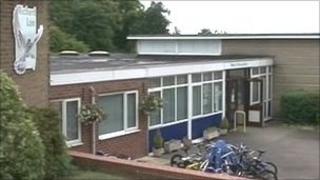 Coventry City Council is aiming to prove seven of its schools are among the worst school buildings in England.
In the government's Priority School Building Programme, it has pledged to rebuild 20 of the 100 worst school properties in England, over five years.
The council has highlighted problems with damp and leaking roofs at the Richard Lee Primary School in Wyken as part of its bid.
Head teacher Nicola Harwood said the 1950s building was "in danger".
'Cracks appearing'
She said: "The structure is old and in danger. Our main problem is the roof, the quote we've had to replace the whole roof is over £0.5m.
"The school boiler and heating system needs replacing and we have severe drainage problems, the whole drainage system needs re-doing. We have cracks appearing now in the floors and walls.
"We only have £9,000 in the budget this year for the school building and of that we only have £4,000 left to see us through the winter so I have major concerns."
The schools in the Coventry bid for re-building funds are:
Alice Stevens School
Ernesford Grange Community School
Richard Lee Primary School
President Kennedy School and Community College
St Thomas More Catholic Primary School
Whitmore Park Primary School
Wyken Croft Primary School
In July parents and pupils from Coventry took a petition of 3,000 signatures to Downing Street to ask for funding.
The government has previously said Coventry City Council had been given £11m to spend on school buildings in the past year, which the council said it had spent on urgent cases.